Hurricane screens
The most durable protection of all systems that exist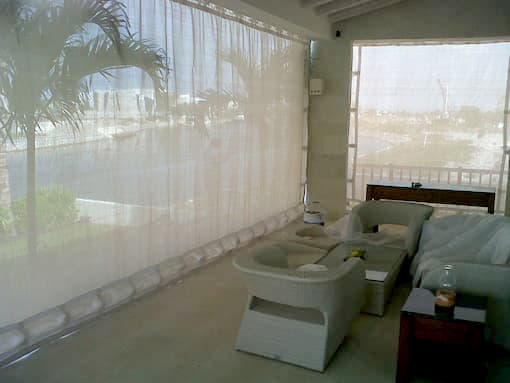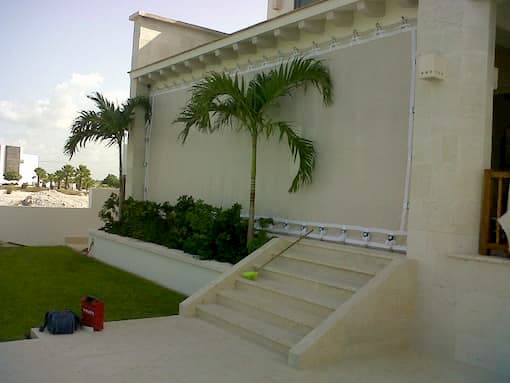 Hurricane screens offer lasting protection. They are made of geo-synthetic polypropylene, a Kevlar-like material used in bulletproof vests.
This material is 95 solid and 5 porous, so it is translucent. It prevents the passage of rain, wind and dangerous projectiles thrown by hurricanes, but does allow visibility to the outside, which avoids feeling completely enclosed. They're practically silent.
Instalación: They are very easy to install and because they are very light, they only require a screwdriver and a ladder.
Translucent: Hurricane screens will allow you to see outwards, so you won't suffer from claustrophobia or the feeling trapped during a hurricane. In addition, it will allow you to stay alert and at the right time decide between staying or evacuating.
Flexible: They are flexible and custom made for each area to be protected. They can be installed in almost any architectural design or surface to protect terraces, balconies, patios, stained-irons, doors and corridors.
Silent: For those of us who have experienced a hurricane, we know what it produces to hear the impact of different objects hitting the glass, wooden wall coverings or aluminum shutters. Therefore, the silence of the screens is a very important advantage.
Maintenance and storage: After a hurricane or storm, just rinse your hurricane screens with fresh water so that it does not store smells of the sea, let dry, fold, put it in a bag or suitcase and ready.
Ask for a quote now without any commitment.
We take customer service very seriously, so we'll call you back in less than 24 hours.
Ask for a quote now without any commitment.
What do our customers say about us?
Resistance
Category 5 Hurricane Winds.
Materials
High strength polypropylene.
Visibility
High visibility through screens.
Installation
It doesn't require great effort.
Security
It is not a product against vandalism.
Thermal insulation
It doesn't isolate the temperature.
Acoustic insulation
It doesn't isolate the sound.
10-year warranty
Apply to hurricane screens. Specifications are indicated in the contract.
Hurricane screens gallery